PreDesigner
[Free]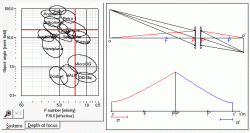 Simple optical layout program [lens calculator] - to assess & illustrate the key paraxial or Gaussian beam parameters.
WinLens3D
[in WinLens suite]
Full optical design program with optimisation. Handles tilts and decenters on surfaces, elements, modules and groups.
---
WinLens3D Basic
[Free]
Free version of the WinLens3D optical design package, which provides serious design and analysis tools for optical engineer, student or designer.
Tolerancer
[in WinLens suite]
Tool for optical engineers - tolerance analysis: sensitivity calculations, tolerance editors, Monte Carlo simulations & ISO 10110 drawings for production.
---
Glass Manager
[in WinLens suite]
Sophisticated glass database program with numerous plots, graphs & tables, comprehensive search & sort facilities, obsolete glass lists and doublet creator.
Material Editor
[in WinLens suite]
A simple utility that is designed to create, edit and manage custom materials for the WinLens3D, Tolerancer and Glass Manager programs.
---
MachVis
[free]
Lens calculator to choose the optimum Qioptiq [LINOS Photonics] Machine Vision lens - a Rodagon, Rogonar, MeVis-C, Inspec.x lens or mag.x systems, plus accessories - for your machine vision task.
Lens Calculator
[Free]
Simple lens equation app for Android [phone or tablet] - touch editable ray diagram & nomogram. User selectable parameters. Lens or Mirror mode. Paraxial or Construction rays. Advanced options.